On April 29, the Ministry of Public Security issued a decision prosecuting the accused and an arrest warrant against Ms. Nguyen Thi Thanh Nhan – CEO, Director-General of Progressive International Joint Stock Company (AIC Group) to investigate tender violations in Dong Nai General Hospital Project.
Ms. Nguyen Thi Thanh Nhan (born 1969, born in Bac Ninh), Chairwoman and General Manager of Progressive International Joint Stock Company (AIC). Ms. Nhan earned her PhD from a labor export trader and graduate degree before undertaking many scandalous projects.
In 1999, Nguyen Thi Thanh Nhan was a Labor Export Officer at the Construction and Trade Company (Traenco, subordinate to the Ministry of Transport). In the early 2000s, exporting labor to Japan, Korea, Taiwan, the Middle East, etc. was a "cheating field" for units sending labor abroad. In addition, workers have to pay hundreds of millions of dongs for each trip.
In 2005, Traenco was equitized and fell into the hands of Ms. Nhan, changed its name to Progressive International Joint Stock Company (AIC) with its head office at 69 Tue Tinh, Hai Ba Trung, Hanoi. At that time, AIC not only exported labor, but also signed a contract to provide personnel for industrial parks and export processing zones in Vietnam. AIC workers are mainly taken on by people who have returned from work abroad.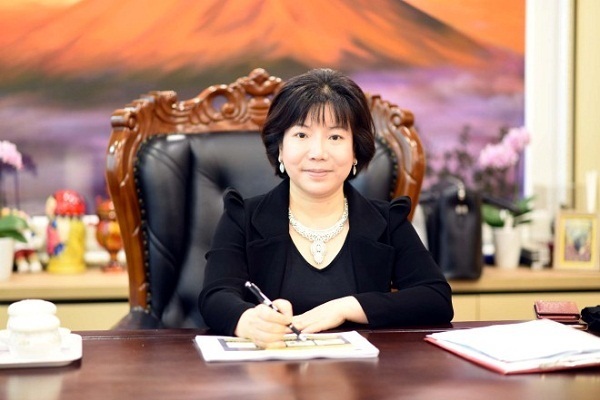 Nguyen Thi Thanh Nhan.
AIC rose quickly by sending workers to sell their labor and expanded its business and became a multi-industry company operating in fields such as healthcare, education, technology, etc.
In the field of education, AIC Group won many tenders related to the supply of teaching materials and training courses for English teachers.
For the medical field, AIC Group is a supplier of equipment to medical contractors and even participates directly in many tender packages for the supply and installation of wastewater and waste treatment equipment in many hospitals. institute.
Among them, there are a number of deals such as: Bid Package "Construction and Installation of Sewage and Waste Treatment Facilities (05 Medical Institutions: Nursing and Rehabilitation Hospital; Tan Bien District Hospital)" ; Tan Chau District Hospital; Center for Reproductive Health; Tay Ninh Provincial General Hospital)" within the project: "Upgrade and Renovation of Medical Waste Treatment System in 9 Medical Institutions of Tay Ninh Province"; Package XL01: "Construction and installation of facilities for waste water treatment plants and ancillary works" as part of the project: "Support for waste treatment from hospitals in the Bach Mai hospital area"; Package 04: "Sewage Treatment Equipment + Incinerator", Project: "Sewage and Waste Treatment System – Gia Lai Provincial Hospital of Traditional Medicine and Rehabilitation"; Package "Equipment Purchase + Installation of Equipment" within the project: "Upgrading of Medical Waste Treatment System of Son La Hospital for Tuberculosis and Lung Diseases".
However, there are many AIC projects that, despite their great demands, are not implemented or are only implemented "elephant-tailed".
In 2010, AIC was commissioned by the Hanoi People's Committee to implement a 2,000 ton/day waste treatment project at Nam Son, Soc Son (Nam Son Landfill). The project is scheduled to go into operation in 2011. So far, however, the project is still just… a landfill site that's becoming a pain point for people in the capital.
In 2013, AIC won the contract for VND 31 billion waste treatment project of Ha Tinh Provincial General Hospital, but the newly commissioned project collapsed many times, resulting in waste of the state budget.
In the field of education, in 2014, AIC Group implemented the tablet project of AIC Group's Smart Education brand. The project is called 123 (Bringing Textbooks and Tablets to Public Elementary Schools) by the Ministry of Education and Training of Ho Chi Minh City. With this project, AIC is suspected of importing 3,500 cheap tablets (approx. VND 500-700,000) from Taiwan, but selling them to Ho Chi Minh City's Ministry of Education and Training for VND 3 million/each. At the time, however, Ms. Nhan denied these suspicions by the media.
Before that, in 2013, AIC won Tender Package No. 2: "Purchase of Equipment for Foreign Language Classes in Middle School, High School, Secondary School, High School" under the Project: "Strengthening Foreign Language Teaching and Learning in the Domestic Education System "People" of Hanoi Department of Education and Training; or the "Purchasing of Computer Equipment and Multipurpose Classroom Equipment for Public Elementary, Middle and High Schools in Bac Ninh Province" package deal.
Surprisingly, in 2017, Ms. Nhan was included in Forbes Vietnam's list of the 50 Most Influential Women in Vietnam. At the same time, AIC Group has become a pioneer in providing equipment and technology solutions for the digital transformation process, building e-government and smart cities for municipalities. , Unit.
In Quang Ninh, for example, Ms. Nguyen Thi Thanh Nhan's AIC group once marked the operation of the province's Smart City Operation Center in 2019 after more than 4 months of implementation.
In the same year, Ms. Nguyen Thi Thanh Nhan was involved in pushing the button to control the Smart City Operation Center in her hometown of Bac Ninh. The software of this center is provided by the AIC Group.
Previously, Ms. Nhan and AIC Group held working sessions with leaders from Hai Duong, Yen Bai, Dong Nai and many other places related to smart city construction projects.
When the Covid-19 pandemic broke out in Vietnam in 2020, AIC Group also quickly developed an online educational software called AIC Education and a medical application "Covid-19" to update information about the disease.
In addition, AIC Group also participates in investments in a number of real estate projects, such as: and a business parking lot in Xuan Dinh District, Bac Tu Liem District (AIC Xuan Dinh).
Hien Anh (general)