Thế Giới
Today Japanese Prime Minister Kishida Fumio pays an official visit to Vietnam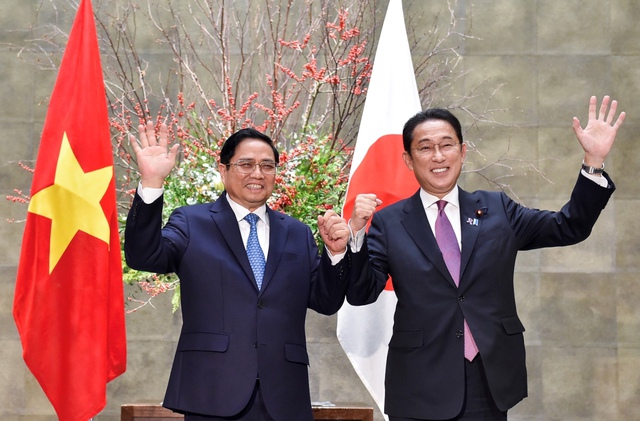 As part of the program, Prime Minister Kishida is expected to lay a wreath and visit the mausoleum to visit President Ho Chi Minh, hold official talks with Prime Minister Pham Minh Chinh, participate in an exchange of cooperation documents and attend a cooperation conference. industrial innovation and digital transformation.
Prime Minister Kishida will also welcome Party Secretary-General Nguyen Phu Trong, President Nguyen Xuan Phuc, National Assembly Chairman Vuong Dinh Hue.
The stop in Vietnam is part of Japanese Prime Minister Kishida's eight-day visit to three Southeast Asian countries, namely Indonesia, Vietnam, Thailand, and two European countries, Italy and the United Kingdom.
This is Mr. Kishida Fumio's first visit to Vietnam as Prime Minister of Japan since taking office (October 2021) and in response to Prime Minister Pham Minh Chinh's official visit to Japan. (November 2021).
The visit took place against the background that Vietnam-Japan relations are at the best stage in history and are developing effectively in many areas. Both sides are actively preparing activities to celebrate the 50th anniversary of diplomatic relations in 2023. High-level leaders of the two countries regularly visit and engage in international and regional forums.
Current Prime Minister Kishida Fumio's two predecessors, former Prime Minister Abe Shinzo and former Prime Minister Suga Yoshihide, both chose Vietnam as the first country they visited after taking office. Prime Minister Pham Minh Chinh, former chairman of the Vietnam-Japan Friendship Parliamentary Alliance, is also the first foreign leader to be formally invited by the new Japanese government.
For his part, Prime Minister Kishida Fumio was Secretary General of the Parliamentary Union of Friendship between Japan and Vietnam for many years. He visited Vietnam three times in other positions and actively contributed to expanding ties into a comprehensive strategic partnership in 2014.
Notably, Prime Minister Kishida Fumio visited Vietnam in July 2014 and May 2016 as Minister of Foreign Affairs and in May 2018 as Chair of the Policy Research Council. Prime Minister Kishida Fumio once told him: "Vietnam is a special and predestined country with Japan".
This visit aims to deepen Vietnam-Japan relations and promote the implementation of the results of Prime Minister Pham Minh Chinh's official visit to Japan (22-25 November 2021); Strengthening political trust between Vietnam and Japan and good relations between the two countries' leaders on the basis of "feelings, sincerity, trust"; Strengthen substantive cooperation in various fields to meet the interests and aspirations of the two peoples.
The Joint Statement "Towards the Opening of a New Phase of the Vietnam-Japan Comprehensive Strategic Partnership for Peace and Prosperity in Asia" was adopted by the two countries during their official visit to Japan. Prime Minister Pham Minh Chinh (November 22-25, 2021) has created a driving force to take relations between the two countries to a new high.
In the past, cooperation has been actively used in the areas of defence, security, investment, trade, official development assistance, healthcare, agriculture, science and technology, digital transformation, education and training, climate change response… Japan remains Vietnam's top economic partner, top ODA donor, third-biggest investor, third-biggest tourism partner, and fourth-biggest trading partner. Both sides actively coordinated to remove obstacles in many important cooperation projects.
Welcoming the Japanese Prime Minister to visit Vietnam is a step in the synchronous implementation of the foreign policy of independence, self-reliance, multilateralization, diversification, proactivity and active international integration, comprehensive, deep and substantial. , effective; to be good friends, reliable partners and responsible members in the international community for peace, friendship, cooperation and development; Vietnam is building an independent and self-reliant economy in which relying on internal resources is strategic, fundamental, long-term and crucial, and determining external resources is important and pioneering.
Relations between Vietnam and Japan in numbers:
In 2021, Vietnam-Japan bilateral trade turnover will reach $42.7 billion, exports will reach $20 billion (up 4.4%). In the first 3 months of 2022, the import and export turnover reached US$11.2 billion, up 11% from the same period in 2021, of which exports reached nearly US$5.4 billion, up 10.1% %, and imports reached almost USD 5.4 billion. nearly $5.8 billion, up 11.7% from the same period in 2021.
As of March 20, Japan has 4,828 valid FDI projects in Vietnam with a total registered investment capital of more than US$64,410 billion, ranking third out of 139 countries and territories behind Korea and Singapore. Investments in Vietnam.
Japan is the largest supplier of yen loans to Vietnam, the total loan value as of December 2019 is 2,578 billion yen (equivalent to about 23.76 billion USD, which is 26.3% of the total subscribed capital). foreign government bonds).
Agricultural cooperation made a breakthrough since 2014 during President Truong Tan Sang's state visit to Japan. Both sides signed and implemented a medium- and long-term vision for Vietnam-Japan agricultural cooperation.
Cooperation on tackling climate change continues to develop strongly, with Japan continuously providing ODA to climate change tackling projects in Vietnam in recent years.
Since 1992, Vietnam has sent many trainees to Japan. At present, Vietnam ranks first in the number of foreign trainees in Japan, with more than 200,000 people.
Cooperation in education and training between the two countries has developed in many forms. Japan is one of the largest donors to the Vietnamese education and training industry. Both sides have signed numerous cooperation documents in this area. The number of Vietnamese international students in Japan currently reaches more than 51,000.
Japan Cooperates to Upgrade 4 Vietnamese Universities to High Quality Universities; cooperates in building a Vietnam-Japan University to train high-skilled human resources for Vietnam…
In 2019, the number of Japanese tourists entering Vietnam reached nearly 952,000, up 15.2% from the same period last year. About 20,000 Japanese citizens currently live in Vietnam. The Vietnamese community in Japan reaches more than 450,000 people. Local cooperation between the two countries has been greatly encouraged. The municipalities of Vietnam and Japan have signed more than 70 cooperation documents.
In cooperation to prevent and control the COVID-19 epidemic, Japan has donated more than 7.4 million doses of vaccine and more than 4 billion yen to provide equipment, technical support and health system improvement. The Vietnamese government, National Assembly and local authorities have provided more than 1.2 million masks to Japan.
You are reading the article
Today Japanese Prime Minister Kishida Fumio pays an official visit to Vietnam
at ngoc.Blogtuan.info – Source: Blogtuan.info – Read the original article here