Business
The girl who spoke to the US President 6 years ago became a famous CEO in the Vietnamese startup investment world
When Barack Obama paid an official visit to Vietnam as US President in May 2016, the head of the White House held a dialogue with Vietnamese startups.
One of the three honored faces who had a direct conversation with the US President at the time was Le Hoang Uyen Vy – CEO of Adayroi.com, which belongs to Vingroup. At the beginning of the conversation, the girl, who was born in 1987, surprised Mr. Obama and many people in the room by asking: "When you were young, did you dream of becoming president?".
After the conversation, Uyen Vy also wrote an article about entrepreneurship. This article later appeared on the White House website.
In fact, people only knew the name of Le Hoang Uyen Vy at that time. She is a famous young entrepreneur in the Vietnamese startup community who made it into the top 30 under 30 in Vietnam in 2015 and the top 30 under 30 in Asia in 2016.
Earn money from 7
Le Hoang Uyen Vy showed her passion and business acumen from a young age. At the age of 7 – when her friends were still playing with dolls or reading stories – she earned her first coins.
In 1994, an Indian magician came to Uyen Vy's school to perform and offer to sell a magic book for VND5,000. The children are all very excited and want to go home and ask their parents for money to own this interesting book.
Seeing this, the second grader suddenly thought, "What if I take a picture of the book and sell it for VND 2,000?".
Thinking about it, Uyen Vy bought an original book, took it home for a photocopy and offered it to her classmates. The photo books were quickly sold out by the student. As a result, after making the first deal, Uyen Vy pocketed VND 15,000 after deducting all expenses.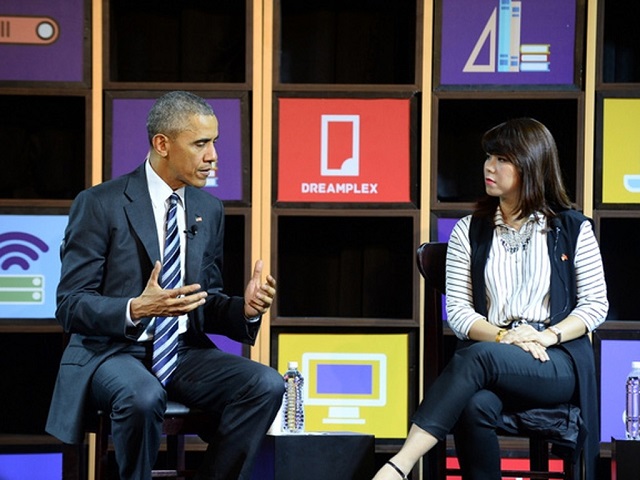 Le Hoang Uyen Vy once had the opportunity to speak with former US President Barack Obama. Picture: Le Hoang Uyen Vy
In 1998 the little girl got access to computers and the internet. Through chat groups, some people introduced Uyen Vy to personal websites with their own domain names. The 11-year-old girl is very enthusiastic about it and also wants to create her own website with the domain name huyenvy.com.
One day, Uyen Vy discovered that Vietnam's largest IT company was listing web development services for over $1,000 when they could have done it for less. Vy decided to start her own business with web design, domain name services and servers. She was only 13 years old then.
"Selling a domain name for $2,100 is one of my successful deals. After this incident, it became very difficult for me to find good domain names. Therefore, I focus on hosting disk space on the server. I had the idea to offer students a free server seat rental service to promote the brand," said Uyen Vy in her 2016 article on entrepreneurship.
After a difficult initial period, her business prospered and was reported in a major newspaper. Shortly after, however, Vy's system was attacked by hackers. Their entire website crashed and their clients' websites suffered the same fate.
"Customers called upset and I had to pay for their damage. Feelings of disappointment flooded me because I lost everything overnight," Uyen Vy recalled.
From Chon.vn, Adayroi to venture capital
After graduating at the top of his class in finance from Georgetown University (USA) in 2009, Le Hoang Uyen Vy turned down many attractive job offers to return to Vietnam to start a business.
Shortly after returning home, Uyen Vy founded the Chon Trading Joint Stock Company and began building an online fashion center through the Chon.vn website. In order to make a difference for their platform, Vy has put a lot of time and effort into selecting reputable suppliers to ensure the quality of the goods as well as customer satisfaction.
After almost 5 years their website became one of the most famous fashion market in Vietnam and was acquired by Vingroup. She also joined this group and at the age of 27 held the role of CEO of the e-commerce project Adayroi.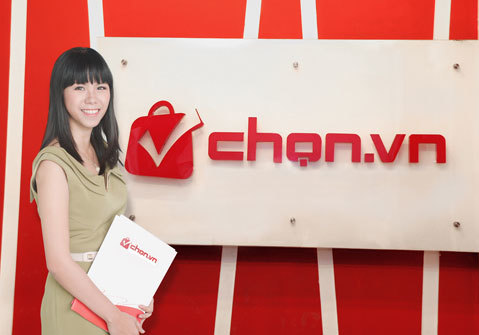 Le Hoang Uyen Vy performing Cho.vn.
In mid-2017, after almost 3 years, Uyen Vy suddenly left the position of CEO of Adayroi and went to the USA to study Virtual Reality. In early 2018, she returned to Vietnam and took on the position of General Partner of ESP Capital – a venture capital fund focused on early-stage startups.
In September 2020, Uyen Vy and Nguyen Manh Dung (former director of Japanese venture capital fund CyberAgent Capital in Vietnam) established US$50 million venture capital fund Do Ventures. The fund aims to find investment opportunities in technology startups that can develop products and services that bring convenience and improve the lives of consumers in Vietnam and Southeast Asia.
The "powerful" woman in the start-up investing world
Sharing the reason for establishing Do Ventures right at the time of the Covid-19 pandemic, Le Hoang Uyen Vy said that the outbreak has had a major impact on companies where startups are the group of companies that have been affected. The biggest is that startups often don't have a lot of capital and cash flow doesn't lag behind.
When Covid-19 hit, Le Hoang Uyen Vy believed two things happened. First, online consumer behavior has changed a lot.
"If you look back at Alibaba's history almost 20 years ago during the SARS pandemic, many Chinese companies knew how to leverage online business at the time. I believe that Covid-19 also offers a similar opportunity, although limited in other aspects, but it can help many tech companies to grow," said CEO Do Ventures. partner in an interview.
On the other hand, when Covid-19 took place, foreign capital inflow was very limited, it was very difficult for a foreign investor to make a "deal" in Vietnam without flying here.
"For these two reasons, Mr. Dung and I have more determination in setting up the fund. We also think that while it's very difficult, it's difficult, we have to do it, if it were easy everyone would do it. During this challenging time, Dung and I want to positively impact the Vietnamese startup ecosystem," she shared.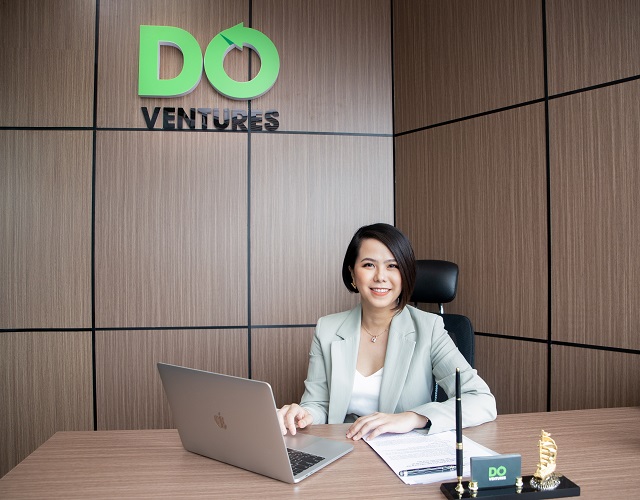 Le Hoang Uyen Vy is currently co-founder and CEO of venture capital fund Do Ventures. Photo: Make Ventures
Although less than 2 years old, Do Ventures is currently one of the most active venture capital funds in Vietnam. As CEO, Le Hoang Uyen has led Vy Do Ventures to invest in a number of startups including online fruit selling platform F99; Company that offers solutions for retailers Palexy; accounting support platform Bizzi; fintech startup Mfast; VUIHOC online education platform…
Do Ventures not only supports Vietnamese startups, but also invests capital in Asian startups. Last March, the fund announced an investment in Korean-based educational technology startup Ringle. Ringle was founded by Stanford University MBAs Seunghoon Lee and Sungpah Lee. The company offers online English tutoring services with a team of tutors from leading universities in the US and UK. This edtech will serve Vietnamese users from 2022.
You are reading the article
The girl who spoke to the US President 6 years ago became a famous CEO in the Vietnamese startup investment world
at ngoc.Blogtuan.info – Source: Blogtuan.info – Read the original article here