Thế Giới
Shanghai has no community infections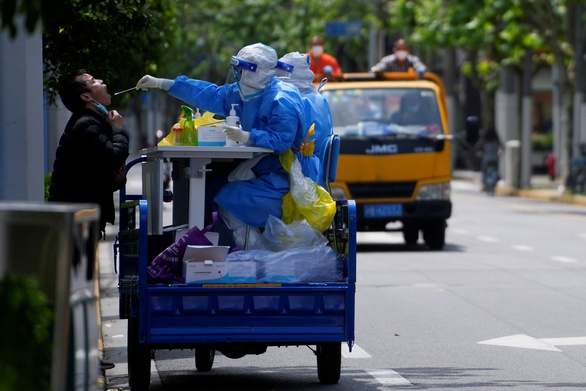 Medical staff COVID-19 test vehicle shanghai April 30 – Photo: REUTERS
On April 30, Shanghai authorities announced that by the end of April 29, the city had not registered any infections in the community, except for isolation and blockade areas. The number of infections from the previous day (April 28) outside the restricted area was 108.
According to Reuters news agency, the lack of new cases outside the blockade is seen as a key milestone for Shanghai in controlling the outbreak that has depleted the city's roughly 25 million residents and placed the capital Beijing on a state of emergency. alarm situation.
Shanghai officials are still cautious about commenting on or expressing excitement about the lack of new infections in the community.
However, on Chinese media and social networks, many netizens have praised it, seeing it as a great achievement in the fight against COVID-19.
"Shanghai has finally reached the level of no community cases. I wish Shanghai will wake up as soon as possible," commented one Weibo user, mentioning the situation like falling asleep in the crowded city. most populous in China.
"I have hope that after the Labor Day holiday we will be released," cheered another.
Chinese cities often relax epidemic prevention measures after not registering new infections outside of isolation and blockade areas.
However, the size of Shanghai's population of up to 25 million could delay easing. The city has 16,000 blockade zones in which 4 million people are restricted from leaving their homes and another 5.4 million people are restricted from leaving the residential area.
Zhao Dandan, deputy director of the Shanghai Health Commission, urged people to remain vigilant and hold on to what has been so difficult to achieve.
According to Reuters, some people are less optimistic about Shanghai's zero new community infections milestone because most people have been staying in a blockade or isolation area, limiting movement somewhat. there.

The Shanghai government is aggressively creating a list of companies and factories looking to reopen. About 80% of the 666 top priority factories have resumed production.
In Beijing, many streets in the capital were empty even on public holidays. In recent years, people usually flock to tourist attractions and public entertainment venues.
This year, however, many people are choosing to stay at home, fearing that epidemic prevention measures may change faster and more than before.
According to China's National Health Commission on April 30, the mainland recorded more than 10,700 new infections as of April 29, down more than 4,800 cases from the previous day.