Thế Giới
China's manufacturing falls to 2-year low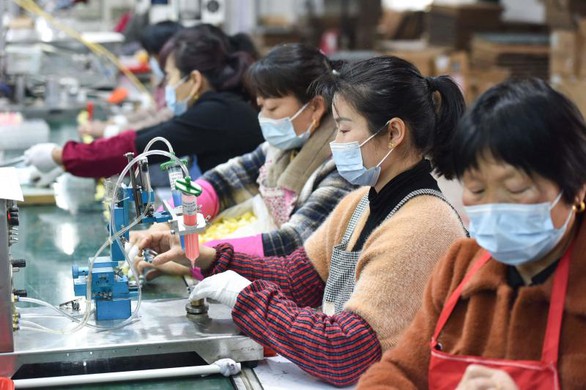 At an electronic product assembly workshop in Anhui province, China, late March 2022 – Photo: AFP
According to data from the National Bureau of Statistics of China (NBS) released on April 30, the purchasing managers' index (PMI) in manufacturing reached 47.4 points in April 2022, falling from 47.4 points. Level of 49.5 points in March 2022.
In addition, the non-manufacturing PMI, which is used to measure activity in the construction and services sectors, also fell to 41.9 points from 48.4 points in March 2022. This is the lowest level since February 2020.
The Bloomberg news agency quoted a report by NBS as saying the drop in manufacturing activity was due to a sharp drop in both production and demand. Recent outbreaks of COVID-19 in many parts of China have forced many companies to reduce or halt production.
Zhao Qinghe, a senior statistician at NBS, said as many as 19 out of 21 service sectors in China, including air transport, accommodation and catering, suffered declines due to the strong impact of the waves. disease outbreak.
The above data comes amid a surge in the number of new COVID-19 cases in China, prompting the country's authorities to impose a lockdown measure and large-scale testing in many major cities.
Dozens of Chinese cities, including economic "pillars" like Shenzhen and Shanghai, have been in full or partial lockdown in recent months.
Many companies have introduced closed production measures, with workers staying in the factory and being tested regularly, but cannot cope with the ongoing epidemic control measures.
Logistic bottlenecks also contribute to the shortage of production materials and make it difficult to transport goods and workers at home and abroad. Meanwhile, demand fell as people stayed home to avoid the epidemic.
At China's Politburo meeting on April 29, the country's leaders pledged to take measures to boost growth but will remain committed to the "Zero COVID" strategy. Some economists fear the strategy poses the biggest risk to China's growth this year.