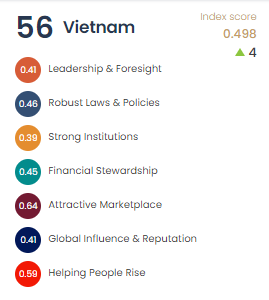 Vietnam Ranked 56th out of 104 countries in the Good Government Index. Source: chandlerinstitute.org
In the 2022 Chandler Good Government Index (CGGI) ranking, Vietnam has achieved a strong gain of 33 places in the income equality index compared to 2021, ranking 42nd.
Vietnam also climbed 18 places to rank 39 in the Investment Attraction Index; Index "satisfaction with public services" ranked 15th and "gender equality" ranked 27th.
In general, Vietnam's performance in the attractive market (34) and human development support (43) indicators shows that the government of Vietnam has focused on the progress of economic development. to improve the national economy while ensuring a fairer society.
The Chandler Good Government Index is the world's most comprehensive index used to measure the performance of a country's government. This index shows the importance of investing in improving the capacities of civil servants and the machinery they run to build a better and more sustainable future.
The CGGI's rigorous methodology was developed in consultation with government officials, executives, experts and researchers on the subject of governance.
Drawing on more than 50 open data sources, CGGI is principles-based and data-driven to help understand the capabilities of 104 governments worldwide.
This index focuses on 7 pillars: Leadership and Foresight; strong laws and policies; strong institutions; financial management; attractive market; global influence reputation and support for human development.
According to the Chandler Institute of Governance, good governance is critical to the success of countries. The Chandler Good Government Index shows why investing in strong government capacity is critical to ensuring positive outcomes in manufacturing, people's lives and businesses. .
In addition to Vietnam, there are 6 countries in Southeast Asia that are ranked in the CGGI 2022. According to this, Singapore ranks 3rd, Malaysia 32nd, Thailand 46th, Indonesia 49th, Philippines 63rd and so on. Cambodia ranks 90th.
This is the second year that the Chandler Institute of Governance is publishing this index, following the previous release in 2021. This year's index specifically highlights the importance of the rule of law, intellectual property rights and anti-corruption, as well as assessing the impact of governance capacity on a country's ability to respond to crises such as the COVID-19 pandemic.