Chuyên đề
"The product of education is not just grades"
On April 28, a clip appeared on social media of a group of students taking advice from two other students in the area in front of the gate of Chu Van Thinh High School, Chieng Ban Township, Mai Son County, Son La Province. hit.
According to the clip, a group of students rushed to beat the advice of two other students, one of whom sustained a head injury. Many viewers of the clip expressed their anger at this blatant incident of school violence.
Mr. Tong Van To – Principal of Chu Van Thinh High School confirmed that the school has received information about the incident and is coordinating with functional forces to investigate and clarify.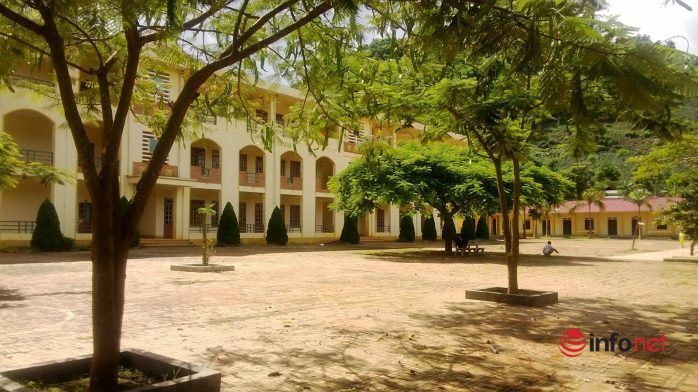 Chu Van Thinh High School
Regarding solutions to minimize school violence, many experts believe that schools need to consider citizenship education as an important issue in raising awareness among students. , to study feelings, beliefs and behavior in accordance with ethical standards and provisions of the law.
Since then, the school has always found that organizing the teaching and learning of the subject of citizenship education is an important task of moral education for the students.
Ms. Le Thi Loan – Former Vice Dean of Education (Institute of Education Administration) said: "To do this, the school must develop a plan to teach the subject of Citizenship Education in subjects related to teaching and learning. Educate students on ethics, lifestyle and school culture through experiential learning activities and flexible integration into school educational activities.
Students need to be bound by theoretical knowledge in real life so that they can adapt their behavior to ethical standards, and more importantly, each student forms and trains standards of behavior. as well as adhere to the school culture, know how to live honestly, protect what is good and right, live beautifully, live usefully for oneself and transmit this spirit to all.
In addition to integrating the contents of culture and behavior into the subject of citizenship education, the school can integrate into the activities under the flag with the theme of life values ​​such as: honesty, humility, respect, multiplication and imitation of noble deeds behaviors".
In addition, according to this expert, the establishment of a school counseling center in schools is an urgent need of students, parents and teachers. This is one of the solutions to build a friendly, safe and equitable school without school violence
However, the question is whether the teachers have enough skills to help them recognize the problem, because the students are now developing and learning very quickly and are psychologically influenced by the social environment, environment and surroundings. school on the internet. To understand children, teachers must have the knowledge and skills to recognize, prevent, prevent and respond to early manifestations of violence and misconduct in school.
Therefore, improving moral and lifestyle education for students, including training solutions for teachers to become more professional psychological counselors, must be equipped with qualified teachers to teach students. Pupils.
"Teachers and schools must ensure educational capacity, teachers are able to change students' personality and behavior, because it is clear that educational products must not only have grades, but also be equipped for students. life skills, behavioral skills, communication, and living and working under the law.
Schools must have a method to inform students of the existence of a school counseling room. Also, one has to convince them that psychological counseling will help them identify their own problems, choose the right solution for them, and at the same time improve their ability to deal with complex problems. as complicated as solving conflicts…
Cooperation with the family, school and society is necessary so that pupils with psychological problems can really go to school counseling centers with confidence. Therefore, the school counseling center must be a reliable counseling center that ensures privacy, sensitivity and confidentiality. Professional competence and quality are a solid spiritual pivot for students.
At the same time, the school must have diverse and lively forms of counseling in order to be able to cover the need for counseling in terms of number, age and target group," says Ms. Le Thi Loan.
Hoang Thanh