Business
Start the tour to see Ho Chi Minh City from above by helicopter
This is a brand new tour, present for the first time in Ho Chi Minh City and carrying many meanings, on the occasion of the celebrations of the liberation of the South and the reunification of the country on April 30th.
The first flight takes about 40 minutes to pass Phu My Bridge, Thu Thiem Bridge, Lanmark 81 Building and Binh Quoi Tourist Area and return to the starting point with a ticket price of VND 4 million for 1 passenger. Before boarding, passengers are screened very carefully to ensure their safety.
It is expected that tomorrow (April 30) 2-3 more flights with a total of 70 passengers will join the helicopter tour around Ho Chi Minh City.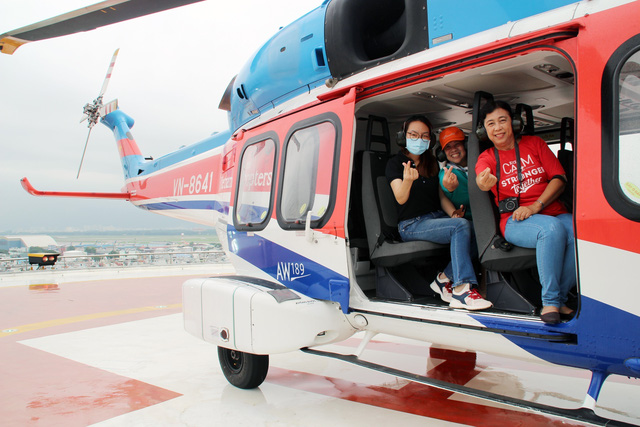 Visitors take the Helicopter View of Ho Chi Minh City from Above tour. (Photo: VNA)
"We anticipate that there will be more price competition to help city residents participate more in this tour," said Mr. Le Truong Hien Hoa, deputy director of Ho Chi Minh City's Ministry of Tourism.
"In the future, there will be not only day flights, but also night flights to Ho Chi Minh City," said Maj. Gen. Nguyen Hong Son, director of Military Hospital 175.
It is expected that tourism companies will continue to build more products with shorter flight times or provide more medium-haul flights of 50-80 minutes to see Can Gio District and Long An Province, see Endless Fields. , Tan Lap floating village from a height of about 300 m.