Thế Giới
South Korea is relaxing regulations on wearing masks outdoors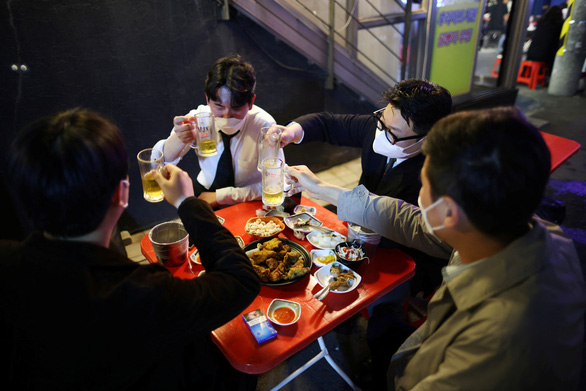 People eat fried chicken in Seoul, South Korea – Photo: REUTERS
Premier Kim Boo Kyum said the government made the decision because it cannot ignore the inconvenience people face as the situation of the COVID-19 epidemic gradually stabilizes.
At events with more than 50 participants such as meetings, concerts or in sports stadiums, masks are still compulsory.
As of the morning of April 29, South Korea recorded another 50,568 new cases of COVID-19, a sharp drop from the peak of more than 620,000 cases/day in mid-March.
Newly elected President Yoon Suk Yeol will take office on May 10th. Mr Yoon's cabinet expressed concern over Prime Minister Kim Boo Kyum's decision, saying it was "too early" to end the mask requirement.
South Korea has halted most of its COVID-19 prevention measures, including a midnight curfew for restaurants and other businesses, according to Reuters news agency.
Deaths and serious cases of COVID-19 in South Korea have been brought under control thanks to a mass vaccination campaign. The country also eased the rigorous tracing and blockade efforts that were in place when the pandemic began.
According to the Korea Centers for Disease Control and Prevention (KCDC), nearly 87% of 52 million people are fully vaccinated, 65% have been vaccinated.