Games
SKT T1 2016 also suffered from the "Lost Team" scene
Recently pictures of world skins 2021 from Edward Gaming has officially "landed" the PBE server. And in the upcoming version 12.9, these skins will officially launch gamers. But with only the current images, this skin line has received very positive feedback. community League of LegendsMost notably, the LPL region thinks this is the best world skin Riot has ever created to honor the champions.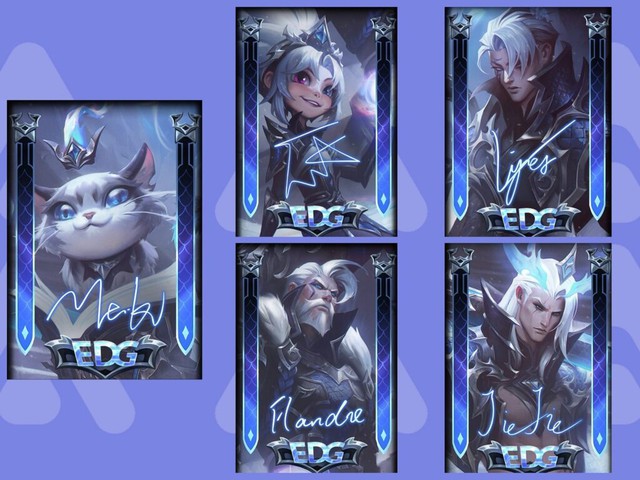 The new EDG 2021 World Championship skin will be released for the League of Legends community on PBE
But before my world skin EDGThere are also costumes honoring the most prestigious tournament winner in the League of Legends village. And those are probably the 5 best world skins Riot has ever brought to the LoL community.
5. SKT T1 2016
2016 is probably the most special year in League of Legends history. This is the first and only year that a team has won both MSI and World Championships. In addition, this team is also the first and so far only team in the history of League of Legends to have defended the world championship. and SKT-T1 This is the team. More specifically, during the 2016 season, Riot continued to show off its remarkable advances in skin design, particularly in honor of Worlds skins impostor and teammates.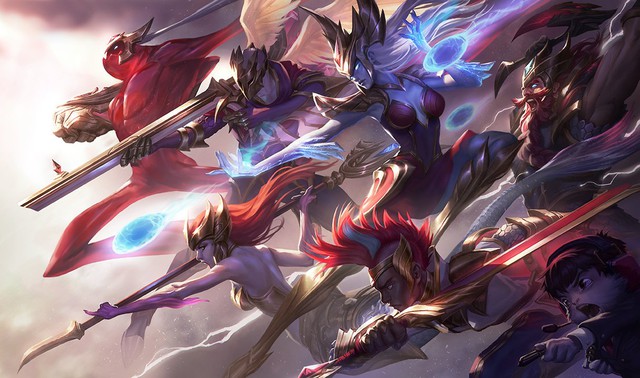 Skin SKT T1 2016 marks the progression of Riot's skin design
With the main color red combined with gold, purple and dark blue, the World Championship Skin line of the SKT T1 2016 features aesthetics, harmonious coloring and a design that feels both cool and extremely strong. In particular, this is also the first and so far only year in which a trainer has designed his own eye model. That's none other than legendary coach kkOma, and he's the only person to date to receive this favor from Riot.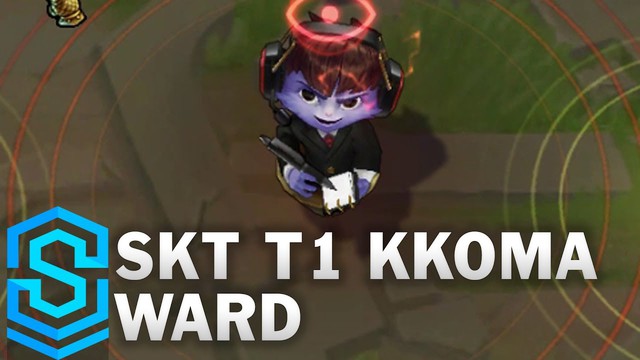 Coach kkOma is also the first and so far only coach that Riot has created an eye model in his honor
4. Samsung Galaxy 2017
As of 2016, Worlds Skin of maintains the "Skin Style". SSG 2017 continues to be another progressive move from Riot. With a design steeped in Korean influences, from the smallest details like the flower in Xayah's hand or the hats worn by champions like Rakan, Ezreal, Taliyah and Jarvan IV. SSG's outfit isn't too sophisticated, but it exudes an antique look Look reminiscent of the feudal dynasties of Korea – the homeland of champions.
In particular, this is one of the first worlds skins with a well-invested background with winter and snow images. This is also one of the skins that Riot invested more in in 2016 than SKT T1's Worlds skin.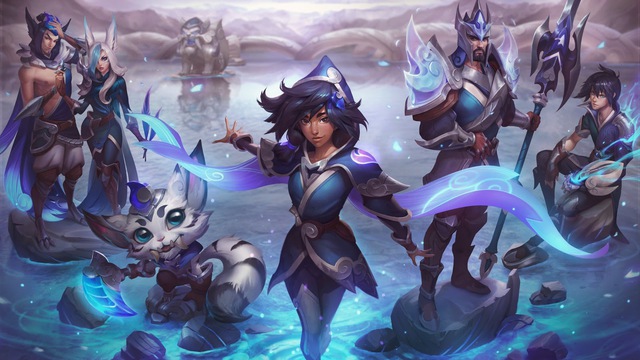 Skin SSG 2017 continues to be a constant improvement in Riot's skin crafting
3. Damwon Gaming 2020
Even if the world championship could not be defended despite another final participation and an unsatisfactory spring 2022, DWG KIA can be proud. Her skin is one of the best Worlds skins ever produced by Riot to honor the owner of the most prestigious championship trophy in the League of Legends village.
However, there were many mixed opinions about this group of costumes. Because while Kennen, Leona and some Nidalee are pretty nice, Twisted Fate and Jhin aren't that outstanding. Twisted Fate's costume clearly has an east-west combination, but it's not exactly perfect. Ghost's Jhin costume is now considered a bit… "fake" from SKT T1.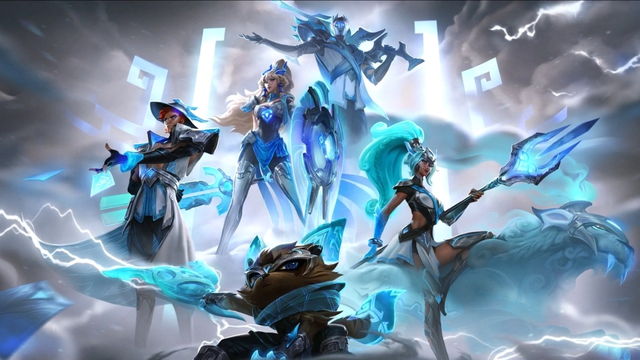 Damwon Gaming 2020 skin is beautiful but brings a lot of controversy
1. Invictus Gaming 2018 – EDward Gaming 2021
And the top 1 is none other than Worlds Skin I G 2018 and EDG 2021. As some comments from the gaming community say, IG's skins design characters like goddesses, while EDG's skins, male generals, are no different from male gods. As for Zoe, she is like a little princess surrounded by extremely cool and strong soldiers.
Skin IG 2018 and EDG 2021 can be called the pinnacle of Riot's design. As for the skins of TheShy and his teammates, the bold, mysterious and magical Chinese colors are clearly visible. The generals' feathers exude a soft, elegant, but no less powerful look. The cold but charming faces of Kai'Sa, Fíora, LeBlanc, Camille, Irelia, Rakan combine perfectly with the overall monochrome, but not monotonous look of the Skin line.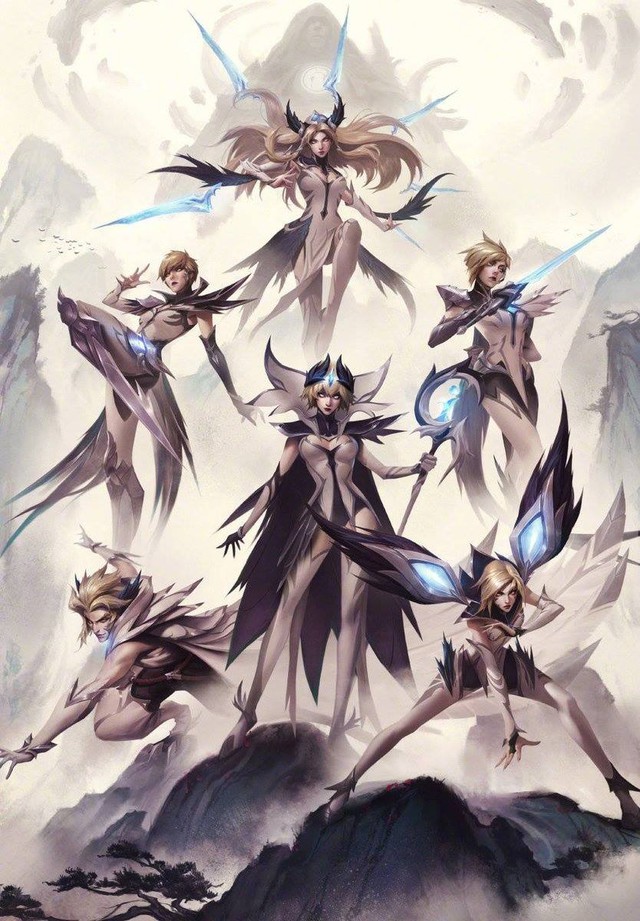 There is not much more to say about the skins of EDG. With the skins revealed, effects and secrets hidden within, it's more than enough for players to be willing to shell out their cash for one of the most beautiful Worlds skins in League of Legends history.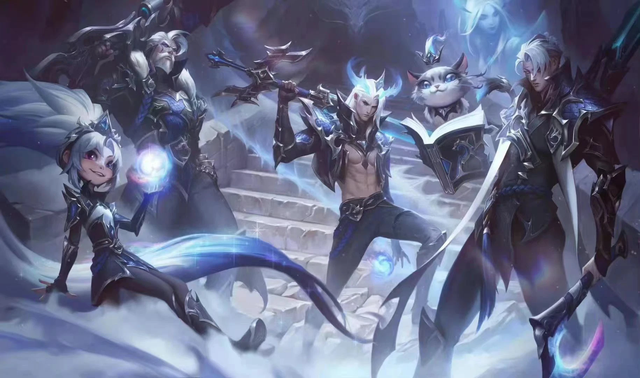 …and the EDG 2021 is really the "top of the top"
https://gamek.vn/5-skin-cktg-dinh-nhat-lang-lmht-tu-truoc-den-nay-skt-t1-2016-cung-phai-chiu-canh-doi-so-20220429232728513. chn