Quốc tế
In many places it is hot from morning to night
The peak of the current heat wave is expected later this week. Above-average temperatures of 5-8 degrees Celsius will prevail in north and north-west India and parts of Pakistan.
According to Scott Duncan, the expert on climate extremes, more than 1 billion people or 10% of the world's population can experience heat in excess of 40 degrees Celsius, including the capital New Delhi – India. Loud radio CNNIn many areas, the nighttime temperature will not fall below 30 degrees Celsius, increasing the risk of death as the body does not recover from the high daytime temperature, especially in the elderly.
On April 26, a train station in Pakistan set the record for the highest maximum temperature in the northern hemisphere with 47 degrees Celsius. According to the Indian Meteorological Department (IMD), the average high temperature across India has been set at 47 degrees Celsius. The temperature recorded in March reached its highest level in the last 122 years.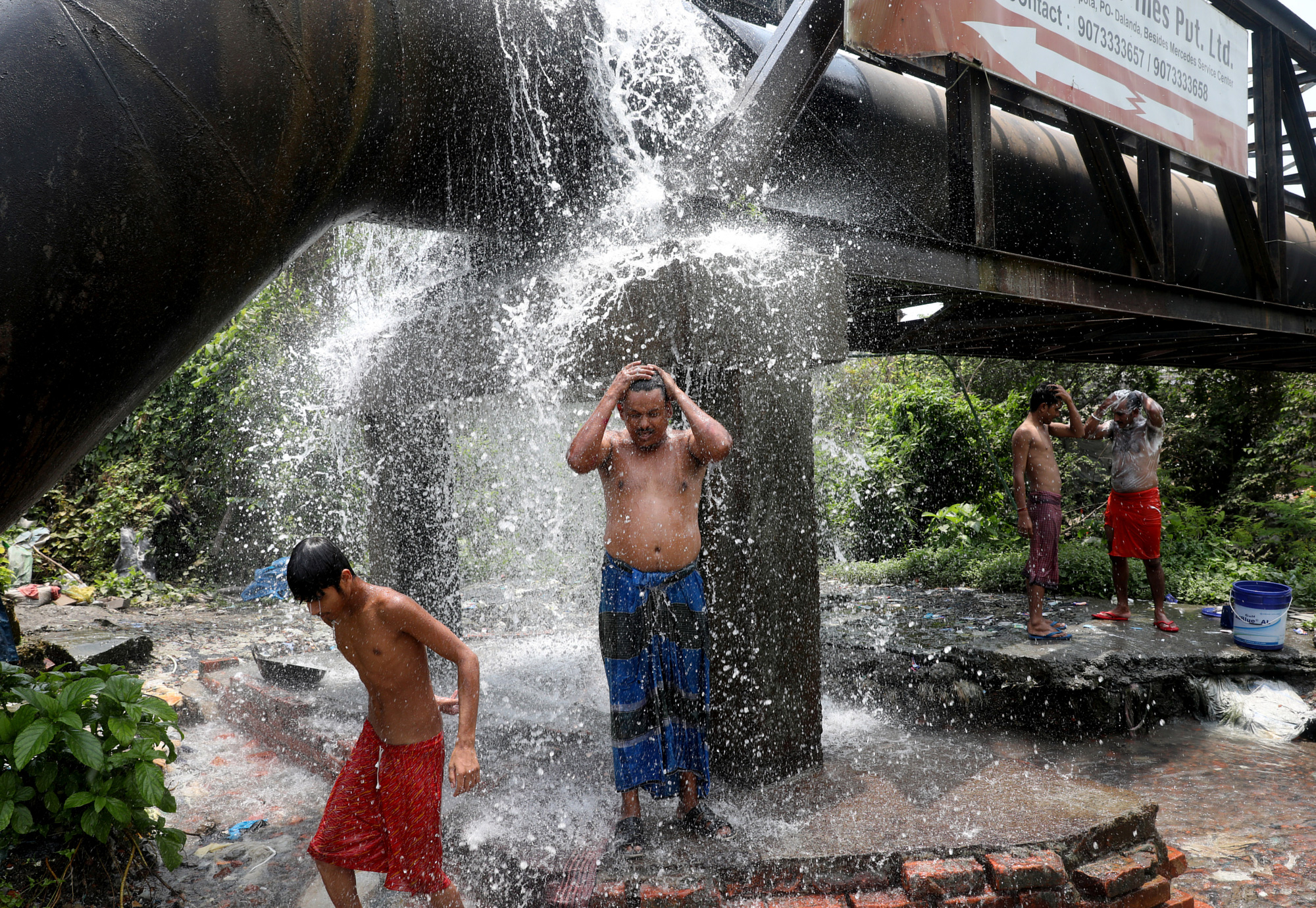 People shower under a leaking water main in hot weather in Kolkata – India April 19 Photo: REUTERS
In the US, the water utility Metropolitan Water District in southern California had to ask about 6 million users on April 26 to reduce outdoor watering to one day per week starting June 1 because of the drought. The drought continues to rage in this state. California Gov. Gavin Newsom also called on people to voluntarily reduce their water use by 15%, but that's still impossible.
Even more extreme is the drought in Somalia, which is destroying people's livelihoods and spurring illegal migration to Europe. About 6 million people are facing a food crisis after three seasons without rain and 81,000 are in a state of starvation. According to the Norwegian Refugee Council, 745,000 people have been evacuated due to the recent drought, most of them since January this year.
Meanwhile, an April 27 report by the United Nations Convention to Combat Desertification (UNCCD) said decades of deforestation, mining and industrial pollution have caused 40% of the country to erode. Erosion and vulnerable economies.
If this trend continues, another 11% of the Earth's land area – the size of South America – could be eroded by 2050. ReutersNot only industries are at risk, soil erosion can lead to crop losses and exacerbate the climate crisis by reducing the Earth's ability to absorb and store carbon.
You read the article
In many places it is hot from morning to night

at the
blogtuan.info
– Source:
nld.com.vn
– Read the original article
here