Thế Giới
EU proposes project to strengthen maritime security with ASEAN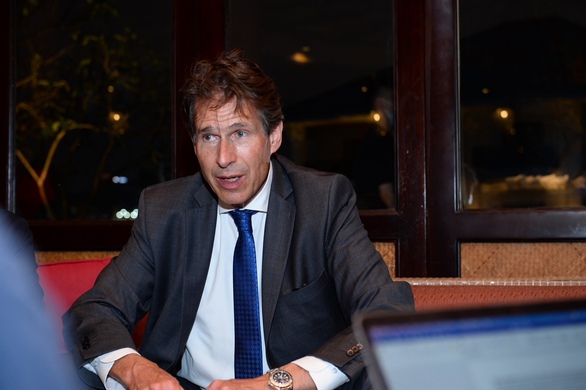 Mr. Gunnar Wiegand, Director General for Asia-Pacific of the European Union (EU) Diplomatic Service – Photo: EU Delegation to VIETNAM
According to Gunnar Wiegand, the EU's Director General for Asia-Pacific, CRIMARIO is a project involving all stakeholders, such as coastguards, navies and agencies against piracy or human trafficking. of the EU, will share a platform to exchange information in real time.
"I was in the Philippines two days ago and the Philippines have started updating their officer training program to use this software," said Mr. Wiegand. "We hope that like some countries ASEAN others, like the Philippines, Vietnam will increase the reception of this proposal".

At a meeting with the press in Hanoi on the evening of April 28, Mr. Gunnar Wiegand shared his views on cooperation with Vietnam in the areas of trade, investment and maritime security.
On trade and investment relations between Vietnam and the EU, Mr. Gunnar Wiegand said that trade and investment between the two sides are developing in a positive direction.
"Vietnam has become a preferred destination for European investors in the region," he said.
Mr Wiegand visited Vietnam on 27 and 28 April to attend the EU-Vietnam Joint Committee meeting. This is an event to review and discuss the contents of EU-Vietnam cooperation.
Mr. Wiegand also stressed the importance of Vietnam and ASEAN for the prosperity of the EU.
"If we have learned anything (from the current situation in Europe), it is that we need to significantly reduce risk and diversify without being heavily dependent on large partners," said Mr. Wiegand. to speak. "ASEAN partners are key to this diversification."
Regarding Vietnam's role in the EU's Indo-Pacific strategy, Mr. Wiegand said that the Indo-Pacific strategy includes not only defense and security but also other issues.
Regarding investments, Mr Wiegand said that while it is currently not possible to announce concrete projects, it is likely that the EU will soon identify concrete investment projects in both green energy and connectivity. Digital. And these are the main areas of cooperation with Vietnam within the framework of the Indo-Pacific strategy.
During the press conference, Mr. Gunnar Wiegand informed that European Commission (EC) Vice-President (EC) Josef Borrel will visit Vietnam in early July ahead of the G20 summit in Indonesia.
At the same time YOUThe EU-ASEAN Summit will take place in Brussels in December. "We look forward to your Prime Minister's participation in this event," he said.