Life Style
Check into the world's largest wave complex ahead of opening day
Another "miracle" for the world famous Vinhomes brand
With an area of ​​over 18 hectares, the complex of artificial wave park Royal Wave Park will be the world's leading size when it goes into operation. That champion position currently belongs to Surf Snowdonia in North Wales. Vinhomes' huge investment serves not only to set a record, but also to provide residents with an unprecedented experience.
Royal Wave Park is no different from a miniature sea world with extensive investments in landscaping. Viewed from above, the entire complex resembles an unspoilt tourist island with a backdrop of "blue sea, white sand, golden sunshine, shady trees, whispering waves". The rope that connects the island to the outside consists of 3 bridges inspired by shells, sea waves or water bubbles. accompanied by accumulations of striking landscapes such as sea fish, algae populations or corals.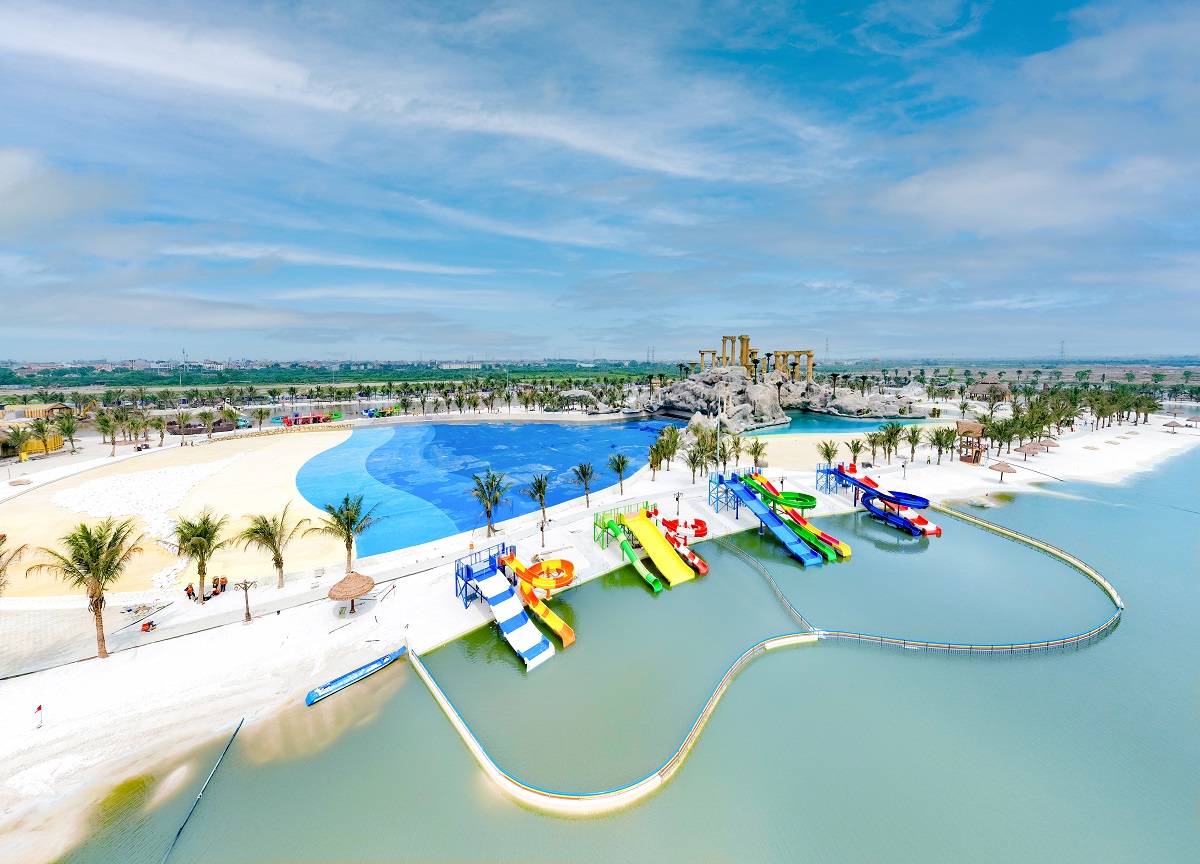 The complex of the artificial wave park Royal Wave Park has completed the elements before the opening date
To create a sense of authenticity, the investor has carefully transported white sand from the carefully screened sea. Hundreds of thousands m3 of quality sand like in high-end resorts are now filled with 1 hectare of Sandy Park. The rows of verdant coconut palms are gradually shaded to create a striking tropical coastal landscape as well as a precious green lung for the entire area.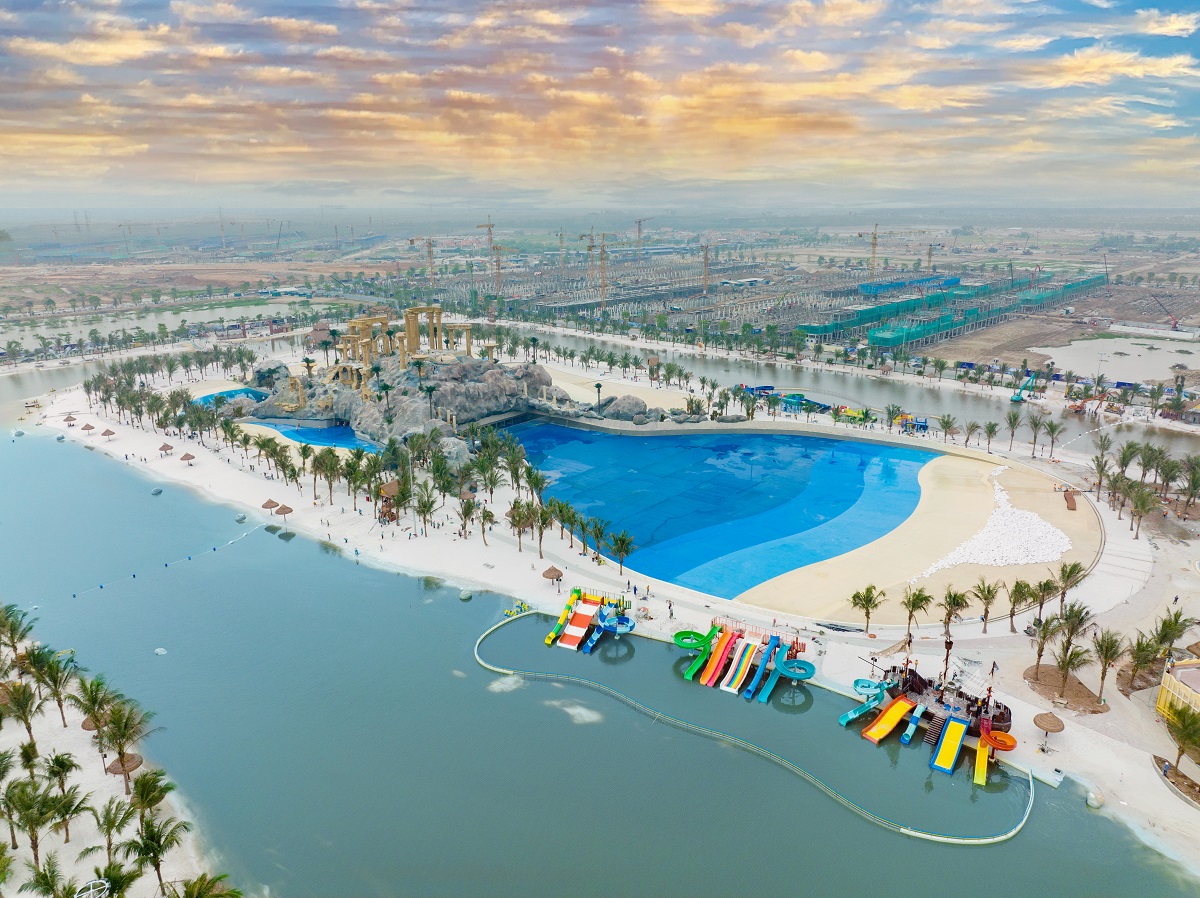 Viewed from above, the center of Royal Wave Park is no different from a sparkling island in the blue sea.
The highlight of the Royal Wave Park complex is 6 waves that create waves 5.4 hectares wide, surrounding a mountain with a 15 m high waterfall, creating a majestic natural setting. In addition, modern technology helps to create continuous waves with a wave height of up to 2.8 m in the lake bottom, giving the feeling of being thrown into the real sea. Seawater is also made with health-promoting ingredients, salinities, and temperatures.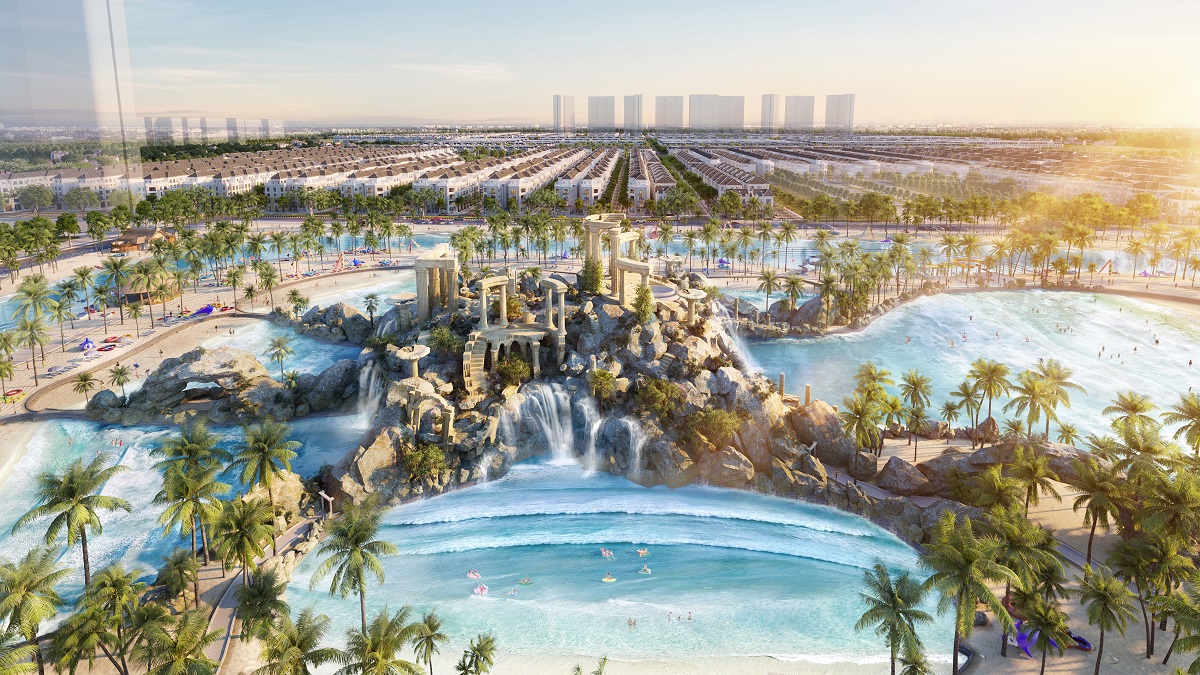 The waterfall is 15m high and the artificial waves can reach up to 2.8m, giving users the feeling of swimming in the open sea.
With the "strong" investment, the shape of an attractive tropical sea is becoming more and more apparent. The residents of the capital and the surrounding area no longer have to carry their backpacks hundreds or thousands of kilometers and can still enjoy the feeling of bathing every day.
In addition, the investor also arranges in the complex other sports fields, children's playgrounds, hiking trails, rest huts, trees, chess gardens … just like a standard resort park. 5 Stars. This is an ideal destination for date nights, picnics, camping or organizing an attractive outdoor barbecue.
Before creating the artificial wave park complex Royal Wave Park, Vinhomes has also been very successful in creating a beautiful artificial beach in Hanoi at Vinhomes Ocean Park and an artificial lake at Vinhomes Smart City. These works have all set "records" and created a highlight for the upscale urban space.
The major coastal city has created a "seismic" with the market in East Hanoi
The artificial wave park Royal Wave Park is just a part of the urban Vinhomes Ocean Park 2 – The Empire. The project is also highlighted by a number of other modern structures including: 4-Season Bay Park, Empire Square, the iconic Goddess of Light Tower, the Capital of Light Pedestrian Mall, Central Park Empire Park Center…
Vinhomes Ocean Park 2 – The Empire is expected to make the real estate market in East Hanoi more "seismic" together with Vinhomes Ocean Park.
Looking forward to future residents of Vinhomes Ocean Park 2 – The Empire is also a chain of super utilities such as Asia's largest saltwater lake Laguna with a 10,000m2 sand park, two water slides, 30m high Hoang Gia mountain, three bridges and three Restaurants by the river…
As part of a megacity covering over 1,000 hectares, residents of Vinhomes Ocean Park 2 – The Empire will inherit a "terrible" ecosystem with 2 Vincom Mega Malls and 2 Vinmec Hospitals. , Vinschool education system,…
Upon its completion, Vinhomes Ocean Park 2 – The Empire is expected to be a powerful push to transform the East into a new and world-class development pole in the capital.
https://kenh14.vn/check-in-to-hop-bien-tao-song-lon-bac-nhat-the-gioi-truoc-ngay-khai-truong-202204292105354.chn
footerFbSdk.init(); }); });