Đời sống
"Breaking" into the best new generation Vincom in Hanoi: what to play, where to live virtually?
29 April 2022 16:25 GMT+7
Vincom Mega Mall Smart City (VMM Smart City), which officially opened on the morning of April 28, quickly "occupied" social networks with an unprecedented set of unique and strange experiences, extreme restaurants and corners. Unique virtual life.
Inhabit practically every square meter
Everyone has their own unique lifestyle photo album in Vincom Mega Mall Smart City. More than 68,000 square meters, each square meter can "turn" into a new background. You can create your own unique frames. However, I would like to give everyone a tip about the addresses that no one should go past when coming to this new generation mall.
Unique to VMM Smart City is the first indoor technology rainbow waterfall in Vietnam with a height of 14m. To tell everyone, they also have a free water show every week. This virtual living area has become a "hot trend" since it was released yesterday morning.
It is impossible to ignore the only indoor river in Vietnam that stretches through the 1st floor of the mall, with 3 bridges connecting shopping and food stalls and cafes on either side of the river. Resting in a row of chairs by the riverbank, with a romantic backdrop of European-style neighborhoods, netizens are sure to think you're in "Western Heaven."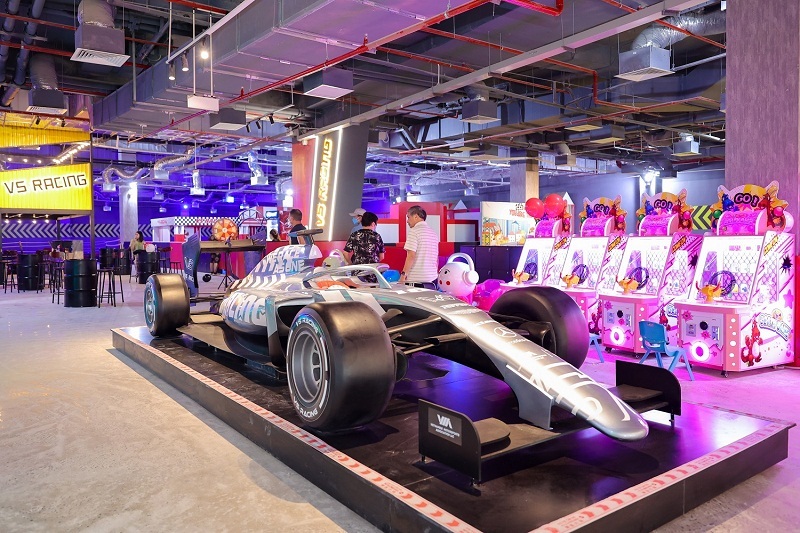 In particular, the "cool" check-in corner with the only real-size F1 car model in Vietnam at VS Racing – Indoor Mini F1 Racetrack on the 3rd floor should not be missing in the virtual photo album of the VMM Smart City.
Do you really play "quality"
If you haven't been to Vincom Mega Mall Smart City on the opening day, the holidays from April 30 to May 1 are the best time to have fun.
Those who love speed must come to VS Racing, experience the dangerous curves of the track with a series of new generation racing cars with speeds up to 40 km/h in safe and super cool protective suits.
After shining on the track, you can go to Okara 4.0 right next to you to keep shining on stage. With brilliant stage space, hot hit playlists and the ability to share instantly, Okara Online Studio Version 4.0 will surely make the singing followers fall in love.
Families with young children "don't need anything, just Wolfoo City." Kids are sure to fall in love when they first step into the real animated world of their cute friends – the famous wolfoo wolf who once pushed three diamonds on YouTube.
After you've done your best, don't forget to recharge yourself in the romantic and poetic coffee street by the river, where brands that accompany the youth of a whole generation meet, such as Koi Thé, Toco Toco, Milana ice cream, The Coffee House, Highlands Coffee, Aha Coffee, Raimu Coffee & Cake Boat coffee.
Shopping with real taste
For families looking to take care of their homes or shop Japanese-style for their homes, Japanese consumer goods supermarket Kohnan first came to Western City residents. Above all, the do-it-yourself area with beautiful garden items is the "golden coordinate" here, which attracts new generations of young families.
At Annam Gourmet, fresh daily authentic food or imported ingredients such as cold meats and cheeses are always the choice of foodies and international families in Hanoi.
With a stylish space, unique experiences, an explosive series of opening events and tons of attractive incentives, Vincom Mega Mall Smart City is likened to a "magnet" that attracts thousands of people to visit and buy. shop every day. In particular, the Smart Passport with a coupon of VND 1 million when shopping in stores is still valid. Hurry up to be able to "dress up" in Vincom Mega Mall Smart City to have great experiences during this holiday.
Phuong Dung
You are reading the article
"Breaking" into the best new generation Vincom in Hanoi: what to play, where to live virtually?
at ngoc.Blogtuan.info – Source: Blogtuan.info – Read the original article here